Are you looking for unique stocking stuffers or small gifts for young family members? Well we have a long list of wonderful items guaranteed to delight the creative kids in your life. All items have been tested and approved by thousands of kids (and moms) who have partied with us or received our custom goodie bags. Plus, we use them every day, so we know they are good. Best part? Every item is budget-friendly between $1-15 and can be found at a local Michael's, WalMart, Hobby Lobby or on Amazon.
Crayola Metallic Markers are a top favorite. The colors are wonderful, coverage is great and the sparkle is a fun surprise.
Scotch brand glitter, washi and duct tape has countless fun uses on all kinds of projects, from decorating boxes, purses, frames, masks and so much more.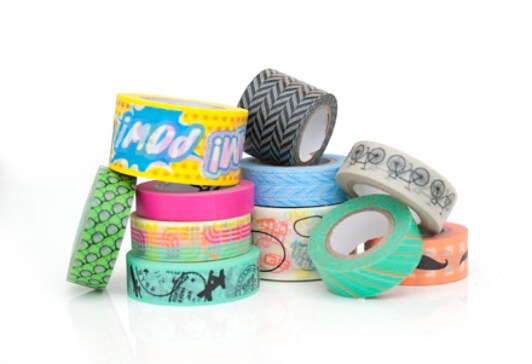 Creatology paints available at Michael's are washable and come in wonderful colors. Kids especially love the metallic and neon colors available in handy 8 packs.
Fun Wire is wonderful for making jewelry. It's available in many colors and kids love to bend and shape the wire to create necklaces and bracelets that they can decorate with beads and charms.
Mini paint sets –  Little watercolor sets make perfect stocking stuffers and are great for road trips.
Mini canvas boards are perfect companions to mini paint set. Kids create their own masterpieces to display at home or give as gifts.
Mini clay sets – Children can create their own cups, bowls, or figures out of clay. These are a hit with kids of all ages.
Mini note pads – Kids can keep a handy travel sze sketch book to make notes and pictures.
Wikki Stix – These yarn sticks coated with wax are fun for boys and girls of all ages. Kids can press them onto any surface to make them stick and then peel them off and put them somewhere else. They don't break or tear but are easy to cut with scissors.
What are your favorite creative stocking stuffers? We love learning about great products so I hope you'll email me to share your ideas at maura@thearttruck.com.
Maura